Wolakota kagapi: The Study of Peace Making on the Pine Ridge Indian Reservation
May 17, 2022 @ 4:00 pm
-
5:00 pm
Unfortunately, the Center for the Study of Religion must postpone this event due to extenuating circumstances. We apologize for the inconvenience, and look forward to welcoming you at our next event.
The Oglala Lakota Peace Making Team, was instrumental in putting together a number of training sessions for community members to become Peace Makers. The tribe developed a Peace Making Room in the new court house. The Peace Making room is used for Peace Making for the community membership.
A Peace Maker has a vision for the future, knows traditional ways, shares and develops leadership, serves and protects the tribal community, develops trust, and shows respect for all tribal people. Native communities are centered on culture, spirituality, language, and stories. They are not centered on financial profit, politics, or religion. These elements of culture are important for explaining the practice of (Wolakota) Peace making.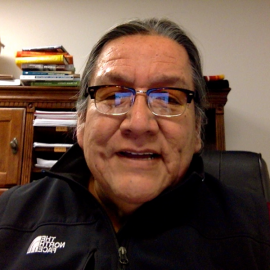 Richard Iron Cloud Ph.D., Oglala Lakota, Richard is a founding member of the Oglala Lakota Peace-Making Team. A group of Oglala Lakota individuals who came together to look for alternatives to the Colonial System of Justice. Richard has been involved in social justice issues, researching systems of oppression in its various forms. Richard believes in looking out for others needs rather than one's own, such behavior is salient in the Lakota (ounye) way of life.