Lost Books: The Forgetfulness of Writing and the Forgetting of Jewish Pasts
May 4 @ 4:00 pm
-
5:00 pm
It is often noted how the discovery of the Dead Sea Scrolls transformed our understanding of ancient Judaism, radically expanding our evidence for Jews and Judaism prior to the rise of Christianity. Yet this material also stands as a striking reminder of how much of the literary heritage of Jewish antiquity has been lost to us. How and why was this material lost to the Jewish tradition, and what might its forgetting tell us about Jewish memory-making, past and present? This lecture explores these questions with a focus on lost books, real and imagined, and the shifting meanings of writing within Jewish cultural history.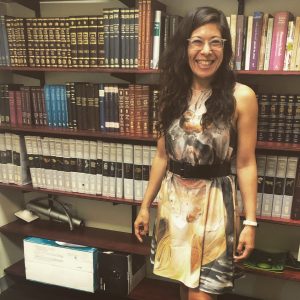 Annette Yoshiko Reed is Professor of New Testament and Early Christianity at Harvard Divinity School. She studies ancient Jews and Christians, with a focus on questions of knowledge, identity, and difference. Her recent books include Jewish-Christianity and the History of Judaism and Christianity​ (2018 and Demons, Angels, and Writing in Ancient Judaism (2020). She is currently working on a book on the cultural power of forgetting, focusing on the Jewish reception of the Second Temple past.
Thursday, May 4, 2023 • 314 Royce Hall • 4 PM
Annette Yoshiko Reed (Harvard University)
Moderator: Sarah Abrevaya Stein (UCLA)
Lost Books: The Forgetfulness of Writing and the Forgetting of Jewish Pasts
Etta and Milton Leve Scholar-in-Residence
This event is co-sponsored with lead sponsor UCLA Alan D Leve Center for Jewish Studies' Etta and Milton Leve Scholar in Residence.