Grupo Madera: 20th Century Afro-Venezuelan Religiosity, Rhythms, and Resistance
Grupo Madera (Wood Group) was founded in 1977 in San Agustín del Sur – an Afro-Venezuelan working-class barrio – by Afro-Venezuelan youth committed to Third World liberation struggles, global Pan-Africanism, and Black consciousness. As a traditional Afro-Venezuelan musical ensemble and community organization, Grupo Madera responded to the people's calls for economic justice and political participation during an era of U.S. backed government repression in Venezuela. On August 15, 1980, while en route to an event with Indigenous communities in the Amazonas region, 11 of the founding members drowned in the Orinoco River. Survivors and social movements consider the tragedy one of the most egregious and vile acts of state violence against Afro-Venezuelan popular masses in contemporary history. In the aftermath of their death, several remaining members of Grupo Madera (1977 – 1980), along with other artists, activists, relatives, and communities, swore an oath to continue the founders' legacy and have done so for 42 years. Join us to learn more about Grupo Madera and the role of culture, religion, and arts in people's struggles in 20th century Venezuela.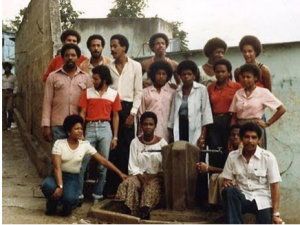 Jeanette Charles is a proud daughter of the Haitian Diaspora raised by working-class Black and Brown Los Angeles. She is pursuing her PhD in History at the University of California, Los Angeles (MA '19). Her research focuses on Black Radicalism, popular religiosity, and political economy in Latin America and the Caribbean. Prior to this, she studied at the Bolivarian University of Venezuela, with the Cátedra Libre África, a research institute focused on Afro-Venezuelan, African diasporic, and African continental histories. She is also a long-time international solidarity organizer, language interpreter, and independent journalist.
Presented by: Jeanette Charles, UCLA