Caste Marketing: How Hindu Rituals Sell Brahminical Supremacy
February 9, 2022 @ 4:00 pm
-
5:00 pm
"Caste marketing" can be understood in several ways: a description of how companies market products based on a caste profile of their users or "caste" groups as targeted market. This lecture will focus on the latter and delve into the ways Hindu ritual websites embed savarna (dominant-caste) focused terms, symbols, deities, rituals, and ideas into their websites such that they become digital repositories of "caste ideology" (Jaiswal 1998). In this sense, collectively, these ritual websites become another form of what Thenmozhi Soundarajan has called "digital brahminism". The terms "caste" and "brahmin" do not appear on these sites, rather we see "Vedic" and "pandit" appealing to the sense of "caste innocence" held by many liberal, dominant caste members of South Asian/Hindu diaspora communities. This research shows how Hindu ritual websites use these subtle caste markers to reinforce savarna Hindu traditions as an unmarked "normal" (casteless).
Event Co-Sponsored by the UCLA Center for India and South Asia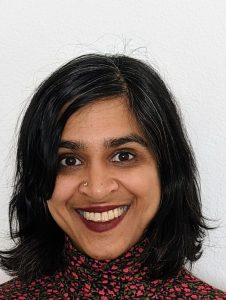 Dr. Dheepa Sundaram (she/her/hers) is an Assistant Professor of Hindu Studies at the University of Denver which sits on the unceded tribal lands of the Cheyenne and Arapaho people. She is a scholar of ritual, nationalism, and digital culture in South Asia. Her research examines the formation of Hindu virtual religious publics through online platforms, social media, apps, and emerging technologies such as virtual reality and artificial intelligence. Specifically, she is interested in how online mechanisms of meaning-making like hashtags operate through the aggregation of capital, relying on power, privilege, and access to be successful. Much of her work thinks about the savarna logics of virtual platforms and how caste-oppressed, Adivasi, and minority religious communities are characterized, minimized, and effaced within these spaces. Her current monograph project titled Globalizing Dharma: The Making of a Global Hindu Brand examines how commercial ritual websites fashion a new, digital canon for Hindu religious praxis, effectively "branding" religious identities through a neoliberal "Vedicizing" of virtual spaces.